Deadline: 24 March 2016
The United States Agency for International Development mission in Indonesia (USAID/Indonesia) is seeking applications from qualified U.S. and non-U.S. nongovernmental organizations (NGOs) for a program to prevent gender-based violence in Eastern Indonesia; entitled BERSAMA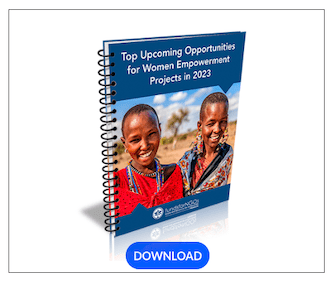 "Bersama" is a new activity that USAID/Indonesia's Office of Democracy, Rights, and Governance (DRG) proposes to begin in FY 2016. Bersama will focus on addressing the problem of gender-based violence (GBV) in four provinces of Indonesia.
USAID/Indonesia's Bersama activity is significant in the context of USAID's GBV Strategy, because it is one of a few USAID-funded anti-GBV programs that approach GBV from a democracy, human rights, governance and accountability lens or via a community-based approach.
BERSAMA supports United States Government (USG) priorities encompassing development and diplomatic goals, including USAID's Global Strategy to prevent and respond to Gender Based Violence (GBV).
Development Objectives
Democratic Governance Strengthened
Essential Human Services for the Poorest and Most Vulnerable Improved
Global Development Priorities of Mutual Interest Advanced
Collaborative Achievement in Science, Technology and Innovation Increased
Areas of Intervention
Addressing the root causes of violence, including gender inequality, contexts that support men's domination of women, and rigid norms about masculinity;
Improving prevention and protection services, including strengthening government service provision and justice systems;
Supporting legislation and its enforcement against GBV, calling for government accountability to uphold women and survivors' rights.
Funding Information: Subject to funding availability, USAID/INDONESIA anticipates level of funding for this award is not to exceed $7,400,000 over five years period.
Eligibility Criteria
U.S. and non-U.S. nongovernmental organizations (NGOs) are eligible to submit an application.
NGOs include any incorporated entity, either nonprofit or for profit, other than a governmental organization.
USAID welcomes applications from organizations which have not previously received financial assistance from USAID.
Applicants must have established financial management, monitoring and evaluation processes, internal control systems, and policies and procedures that comply with established U.S. Government standards, laws, and regulations.
The successful applicant will be subject to a responsibility determination assessment.
The Recipient must be a responsible entity. The Agreement Officer may determine a pre-award survey is required to conduct an examination that will determine whether the prospective recipient has the necessary organization, experience, accounting and operational controls, and technical skills – or ability to obtain them – in order to achieve the objectives of the program and comply with the terms and conditions of the award.
How to Apply
Interested applicants must submit the applications both in hard copies and electronically at the address given on the website.
For more information, please visit Gender Based Violence Prevention Program.